Rwanda receives ventilators from US in efforts to contain COVID-19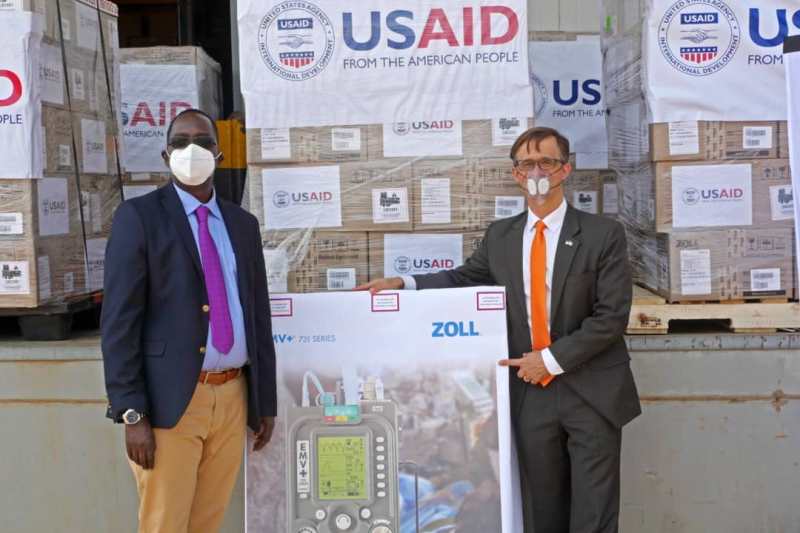 The United States Government, through the U.S. Agency for International Development (USAID), has donated 100 new state-of-the-art ventilators to Rwanda to fight against COVID-19.  The donation delivers on President Trump's generous offer of critically needed medical equipment and supports Rwanda's response to the pandemic.
These 100 Zoll Portable Critical Care ventilators, manufactured in the United States, are leading-edge and in-demand technology to help COVID-19 patients to breathe.  They give Rwanda a powerful tool to treat critically ill patients affected by the virus and can be operated invasively or non-invasively.  For patients whose lungs are not working adequately due to COVID-19 or other severe respiratory illnesses, this equipment will be lifesaving.
"The United States is Rwanda's health partner.  This donation of 100 Made-in-America ventilators, valued at over one billion RWF, is not just technology to assist in patient care, but it will be accompanied with training to help doctors and nurses in Rwanda deploy it effectively should critically ill patients require ventilators," said U.S. Ambassador to Rwanda, Peter H. Vrooman.
The United States has already committed more than ten billion RWF to Rwanda to respond to COVID-19.  This ten billion RWF strengthens systems that provide clinical care to treat COVID-19, disseminates health messages to prevent the spread of COVID-19, builds lab capacity to test for COVID-19, and improves disease surveillance to stop COVID-19 before it spreads.  In addition, the United States, has given medical supplies like ICU beds, hand sanitizers, chlorine disinfectant, gloves, patient monitors, laryngoscopes, and biohazard bags to Rwandans working on the frontlines of COVID-19.  Additional U.S.donated Personal Protective Equipment (PPE) arrived in Rwanda on July 29, 2020.  USAID has also constructed handwashing stations across Rwanda and supported public communications to fight COVID-19.
For decades, the United States has been the world's largest provider of bilateral assistance in health. Since 2009, American taxpayers have generously funded more than $100 billion in health assistance and nearly $70 billion in humanitarian assistance worldwide.