Kigali: How hand-washing in Kigali city market is fighting Covid-19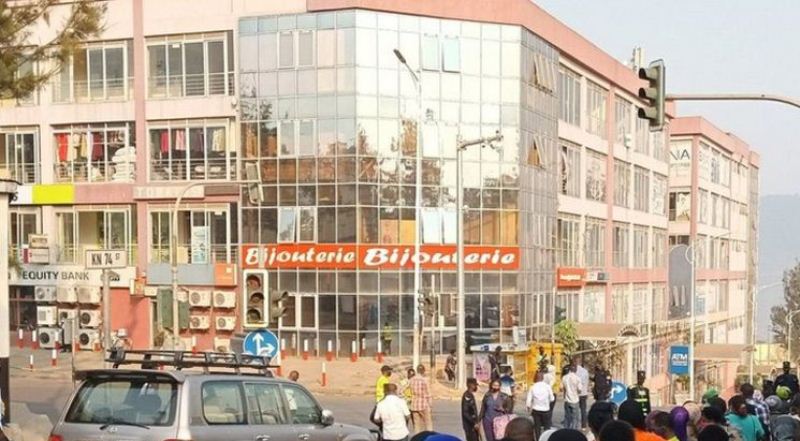 Hand-washing facilities and use of hand sanitizers are among the measures that helped much in preventing the spread of Covid-19 pandemic in Kigali City Market and countrywide in general, vendors have confirmed.
According to the vendors, the hand-washing habit as a way of preventing the spread of Covid-19 has also improved hygiene in their daily life.
Antoinette Muragijemariya one of the vendors in the market explains that hand-washing is a needed powerful weapon in combating the pandemic considering that vendors meet thousands of people every day.
She says that since Covid-19 outbreak in Rwanda, Covid-19 measures including hand-washing facilities have saved lives of vendors from Kigali city market and Rwandans in general amidst Coronavirus pandemic.
"When Covid-19 broke out in Rwanda none of the vendors could enter the market without washing their hands. Each vendor is also required to set up hand-washing facilities on their stands in the market so that clients wash before interacting with vendors as a way of preventing Covid-19 transmission," she said.
Alexis Kagaba, another vendor in Kigali city market, said that besides hand-washing, use of hand sanitizers is another alternative for preventing the spread of Covid-19 in case there is no water.
Challenges of hand sanitizers' affordability
Kagaba that thousands of clients coming in the market make it hard to afford all needed hand sanitizers to prevent to fight Covid-19 as they are quickly exhausted.
"We receive many clients every day. If you see the needed amount of hand sanitizers to help them sanitize before interaction, it is not easily affordable. That is the challenge because sometimes authorities can inspect the market and fine those whose hand sanitizers have been exhausted and don't buy others," he said.
Kagaba requests something to be done in order to reduce hand sanitizer prices so that vendors can afford such Covid-19 prevention products.
Hand-washing campaign strengthened
Patricie Mukangarambe the Director   of public health and environment in Kigali city said that the hand-washing campaign has been strengthened using communication channels such as radios and cars with loud speakers that cross the city centre and suburbs including markets educating people on preventing Covid-19.
Mukangarambe said that sensitization about Covid-19 measures is also carried out targeting vendors in Kigali city market to avoid another Covid-19 cases spike that ever led to closure of the market last year.
" We took sensitization  measures in preventing Covid-19 by using announcements through loud speakers in the cars that circulate  in all roads of  the city urging -all citizens including those using Kigali city market- to continue complying with Covid-19 prevention measures by regularly washing hands. This will help to avoid another spike of Covid-19 cases that can cause another halt of businesses in the market and another lockdown," she explained.
Speaking about hand sanitizers that are said not to be affordable, the official said that the city has done advocacy so that there are as many manufacturers as possible which might lead to decrease of hand sanitizers prices.
Mukangarambe emphasized that compared to the hand sanitizer prices when Covid-19 broke out in Rwanda, the prices have gradually decreased.
She said large quantities of hand sanitizers are being produced at different prices and urged all vendors to buy them in a bid to continue preventing the spread of Covid019 and spiking cases in the market.
Hand washing measures in preventing the transmission of the pandemic have become a habit among the vendors and buyers in Kigali city market but there are still few who don't comply with these measures.