The World Food Programme and Hinga Wunguke enter partnership to support 200,000 Rwandan farmers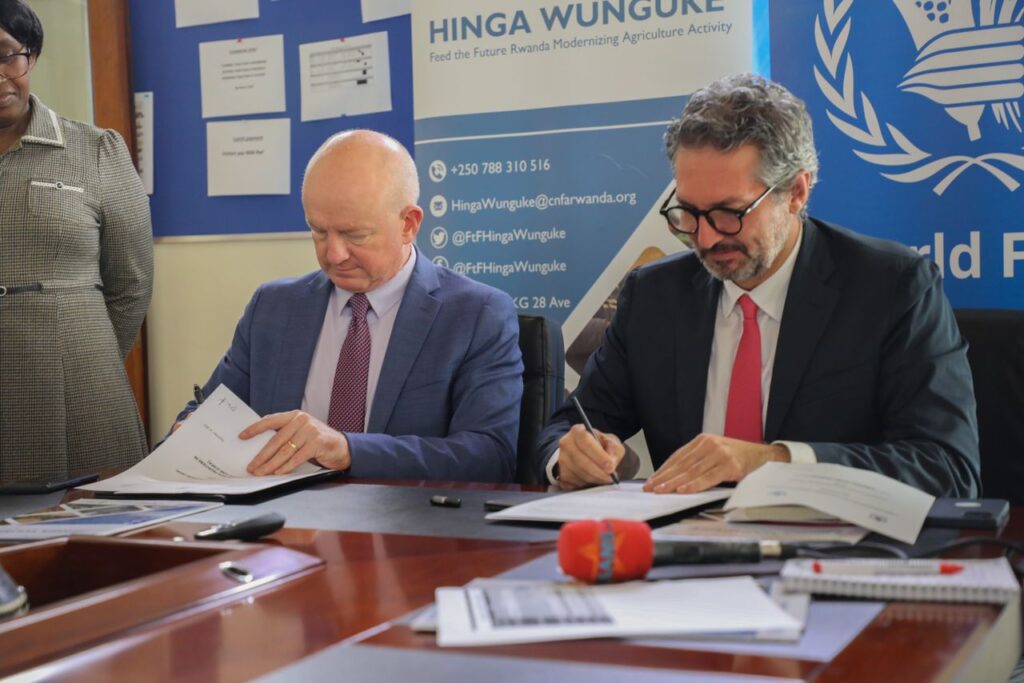 Today, the World Food Programme (WFP) has signed a memorandum of understanding (MOU) with CNFA, on behalf of the USAID-funded Feed the Future Rwanda Hinga Wunguke Activity (Hinga Wunguke), to support up to 200,000 farmers across several districts.
Through the partnership, Hinga Wunguke, an USAID-funded initiative will align with the "Shora Neza" programme funded by the Mastercard Foundation and managed by WFP that aims to create employment opportunities for youth, especially young women in agriculture. This will facilitate the development of an inclusive market system environment that supports smallholder farmers, including youth, to access formal, profitable, markets that are both sustainable and transparent. The partnership will also improve the availability and consumption of safe, affordable, nutritious food products in Rwanda.
Together, WFP and Hinga Wunguke aim to increase agriculture productivity, improve access to finance and profitable markets, improve nutrition outcomes, and create an enabling environment for food systems strengthening, while increasing employment opportunities for over 46,000 youth's especially young women.
The joint initiative will engage other USAID implementing partners to ensure more farmers benefit from the support provided. Commenting on the partnership, both signatories appreciate the joint effort to support farmers. "These innovations help us improve the capabilities of farmers while ensuring they produce better and sell more," observed the Chief of Party of Hinga Wunguke, Daniel Gies. "We're excited to expand our partnership to tap into our joint expertise to create access to incomes and markets for the last mile farmers," commented the WFP Representative and Country Director, Andrea Bagnoli.
The MoU covers 30 districts where WFP is active, including 13 where Hinga Wunguke operates.