Mobile money services transforming lives of Bugesera residents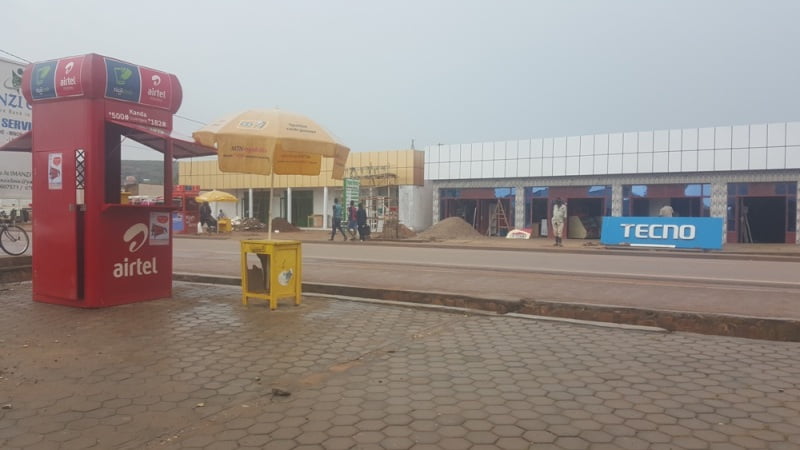 Residents of Bugesera District in the Eastern Rwanda have expressed relief from the past rigorous money transfer processes, thanks to mobile money services that were introduced about 10 years ago.
MTN Rwanda was the first to introduce mobile money transaction in the country in February, 2010 while Tigo and Airtel followed suit with their mobile money products in 2011 and 2013 respectively. Statistics from Rwanda Utilities Regulatory Authority (RURA) indicate that there were 10.1 million active mobile money subscribers across all telecom lines in Rwanda by 2018.
Speaking to this media last week, different people in Bugesera said the mobile money transaction services have relieved them from the previous expensive and ineffective practices of transacting money.
Mukamana Vestine, a resident of Batima Cell in Rweru Sector, said she is easily receiving money transfers from her children and friends and that the quick delivery is important in responding to emergencies which require money.
"Before these mobile money services came, we used to wrap money in an envelope, give it to someone who is travelling to the area of the receiver and that would take too long to find the person to carry the money. We would then wait until we meet the receiver to confirm whether they received the money. The money transfer would sometimes not even reach the receiver," said the 46-year old woman, adding:
"But these days, I just take my phone and make a call to my child in Kigali when I am sick or broke and the child will say, wait a bit, mama, and I very shortly receive a mobile money message with either Rwf5,000 or Rwf10,000 having been deposited on my mobile money account and I go to withdraw from the nearest agent. My child who lives in Kigali City usually sends me money via mobile money."
Mukamana only wishes for the reduction of the transaction fee "because Rwf5,000 is charged Rwf500 for the process of sending and withdrawing it; it should be cut by half to make the service more affordable for us."
Médiatrice Mujawezu, who lives in Nkanga Cell of Rweru Sector, shared similar views and pleaded for reduction of the transaction fees and improvement of the network to have better telecommunication and mobile money services.
"I often use Tigo cash services in money transactions but I also use MTN Mobile Money because I have got both lines. It has become very easy with mobile money transactions. For instance, one might be in Uganda and sends you any amount of money very easily in seconds and at minimal costs compared to the time one had to travel miles away to deliver the transfer," said the mother of five.
"There is time I sent Rwf1,000 to someone at Kanombe Military Hospital in Kigali and the entire fee was Rwf400 on Tigo Cash but we wish that this be cut by half."
Immaculée Mukamana, from Kintambwe Cell in the same sector, also decried serious inconveniences resulting from lack of mobile money agents and poor telecom network in her area which spreads along the boundaries with Burundi.
"We lack network and one may be unavailable on a telephone for the entire day and later receive a notification that people have been looking for us and there we have to walk some distance from home in search for network. We do not have mobile money agents in our area either; we have to ride a motorbike at Rwf1,000 or walk for two hours to this Rweru centre for mobile money services," she said.
Viable business in mobile money
Mobile financial services have employed many people who commend the viability of working with telecom companies as mobile money agents. There are many agents of the telecoms and some for the banks in Nyamata, the Bugesera city centre, and there are some telecoms agents in different rural parts of the district.
Protais Musoni, a young man who has been operating in Nyamata centre for one year as an MTN Mobile Money agent, testified that this business earns him a better income than any other things he did before.
"I was before selling telecom SIM-cards but I also used to ferry passengers on a bicycle before joining the telecoms. When I got the capital, I started out with these mobile transaction services as an agent. With the capital between Rwf100,000 and Rwf150,000, an agent earns at least Rwf60,000 commissions monthly," he said.
Musoni encouraged the educated and non-educated youth to join this business instead of waiting for being employed, adding that mobile money agents earns more that many in the jobs that people are hopelessly looking for.
"This is the work anyone can do as long as they can read and the youth should not wait for office jobs because this business can earn them more than they can get from many office jobs. I didn't do secondary school but I am doing this business without any difficulties," he said.
Angelique Umwari, Bugesera District Vice- Mayor in charge of Finance and Economic Development, said the district is working closely with RURA and telecom service providers on finding solution for the poor network especially in the sectors of Nyarugenge, Rweru and Kamabuye which go along the boundaries with Burundi.
"There are telecom antennas which are under construction around our district to solve that problem," she said.
Umwari added the district is encouraging people especially the youth to seize opportunities presented by the ICT and the mobile financial services in particular through the training that is offered from 18 ICT centres spread across the district.
Telephone penetration stood at 82.1% in Rwanda by 2018 while internet penetration was at 52.1%, according to the Ministry of ICT and Innovation.