Integrate victims of SGBV into the society –Experts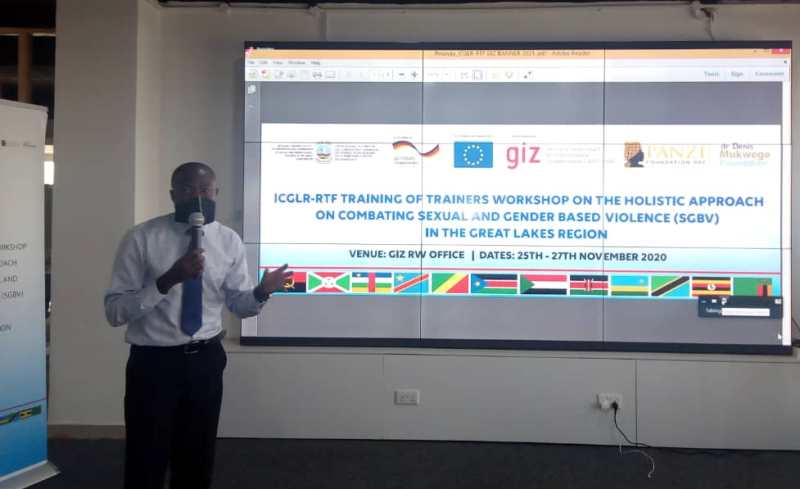 Twelve member countries of the International Conference on the Great Lakes Region (ICGLR) are calling for community structure to offer services and integrate survivors or victims of sexual and gender-based violence into society.
The call was made by the Coordinator of (ICGLR), Victor Mugaruka, while conducting training on sexual and gender-based violence on 25th – 27th November 2020 at Kigali.
"We are training our professionals on psychosocial aspects how to conduct counseling and, economically support the survivors or victims of sexual violence especially young girls and young mothers," he observed.  He commended the facilities and services being offered at Isange One-Stop Center and indicated how community advocacy and awareness can enable such victims to know and enjoy their rights. "We should also educate the communities to report the police and assist such victims to access health services".
The call came as Rwanda joins the rest of the world in the 16 Days of Activism against Gender-Based Violence. This year 2020, the campaign will internationally be conducted under the theme: "Fund, Respond, Prevent, and Collect". In Rwanda the theme is "Let us build a Family Free of GBV". The Sixteen Days Campaign is an opportune moment to call upon everyone to join hands in preventing and fighting against GBV and all forms of violence against women and girls.
Commenting on the same issue, the National Trainer on sexual gender-based violence in ICGLR, Ngendahayo Moise, observed that Rwanda is among some of the ICGLR member countries that have a law in place that penalizes gender-based violence. He said although Isange One Stop Center offers health services to victims, more needs to be done to integrate victims into society.
"We are avoiding discrimination against the victims, and we are helping them to integrate into communities and engage in development activities," he observed.
Kabatesi Olivia, Country Director of Empower Rwanda, called on parents to take care of their children without condemning those that have experienced sexual violence or have been defiled. "When a child defiled, you can help the child psychologically, in order to prevent associated trauma," she said, adding that,  such a child may be defiled again if she is chased away from the home, "Our role as parents is to take care of our children and the advice them to be able to report if they are faced with sexual or gender-based violence including defilement," Kabatesi emphasized.
Key forms of SGBV reported during COVID-19:
Domestic violence: highly reported in Uganda than in other countries.
Defilement: highly reported in Uganda and Kenya.
Rape: highly reported in Uganda and Kenya.
Economic violence: highly reported in Bujumbura / Burundi.
Trauma: Highly reported in Burundi. The physical and psychological violence was very high during the lockdown.
Indecent assault: high reported in Uganda, Kenya and Angola.
Child abduction: highly reported in Uganda and Kenya.
Unnatural offenses: highly reported in Uganda, Kenya and Angola.
Infanticide: reported in Uganda, Kenya, Burundi and Angola.
Incest: Uganda, Kenya, and Angola.
Some of the causes of SGBV stated: High unemployment rate among young people especially in this COVID-19 period; low awareness on the issue of GBV; lack of dialogue in families; divorce of parents; lack of self-control and the lack of knowledge of one's rights.
Some of the Strategies to improve the care and situation of survivors were identified: Sensitization on legal instruments that protect women's rights; rehabilitation; resocialization and reintegration. Others included emphasizing the basic concepts of care for victims of sexual violence; providing free care to victims; conducting multiple seminars on sexual violence; strengthening care facilities for victims (hospitals, supervision centers), and increasing awareness among men.