How electronic dryers are reducing post-harvest losses in Rwanda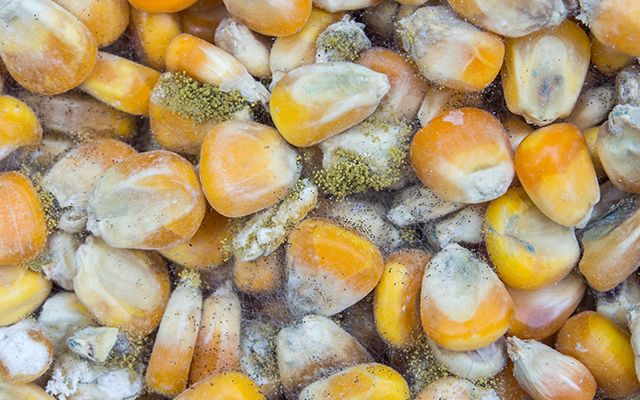 The use of dryers in Rwanda is reducing the loss of crops after harvesting especially cereals which are mostly affected by aflatoxin and become harmful to human consumption.
Aflatoxin, produced by the fungus Aspergillus, affects a lot of cereals around the world, In Southern Africa alone, the World Health Organisation (WHO) estimates that about 500 million people are exposed to health effects caused by aflatoxin.
In Rwanda, postharvest losses due to poor handling account for 16-22 percent of cereals losses and 11 percent of beans. About 350,000 tonnes of maize are harvested across the country and 120,000 tonnes of maize need to be dried for storage and market. The rest is consumed in homes directly. The target is to reduce the loss to 5 percent by 2024.
Yet, smallholder farmers continue to face the health and economic effects of aflatoxin in contaminated maize and other cereals. This is mainly caused by poor storage in humid conditions, which, in itself, affects the quality of products and, eventually, access to markets. The use of traditional and local methods of drying cereals, locally known as gusharika, still exposes cereals to contamination.
Rwanda is solving this persistent problem of aflatoxin by availing of electronic dryers both mobile and fixed. The Government imported 10 dryers through the Rwanda Agriculture and Animal Resources Development Board leased to private investors about 120.000 tonnes of maize. These machine have the capacity to dry between 35.000 and 90.000 tonnes per year if maximized fully.
Fixed dryers as the name say are not movable and most of the time are the big ones compared to the mobile ones while mobile dryers are the portable ones that can be moved from one place and another. Normally they are small compared to the fixed ones.
There is also cob dryers that deal with drying whole maize crop harvested with their cobs. The mobile dryers have the capacity to dry 10 tonnes between four and five hours each, while cob dryers can dry between four and six tonnes in 18 hours, each.
Driers function when an electric motor rotates the drum filled with wet clothes, simultaneously driving the fan which circulates hot air through the drum. A heater heats the air, and a thermostat maintains the correct temperature.
Reaping big from the dryers
According to some farmers, the dryers are already making a difference in managing aflatoxin levels in cereals.
Niyonzima Sosthène, the president of the maize farmers' umbrella in Bugesera District, Eastern Province recalls a period when a farmer would take about 10 tonnes of maize for drying, only to be told that half of it (5 tonnes) were contaminated. As a result, buyers could reject contaminated maize, leading to losses for the farmers, low market credibility, and income loss due to aflatoxin contamination.
Now, his farmers are able to access quality drying services at MAHWI Grain Millers which installed a fixed dryer near the farmers.
"The MAHWI Grain Millers has rescued us from this aflatoxin problem," he said.
These machines have an electric motor that rotates the drum filled with wet clothes, simultaneously driving the fan and circulating hot air through the drum. A heater heats the air, and a thermostat maintains the correct temperature.
The price of the machine depends on the size of the machine and its origin.
For example, the ones from Italy are very expensive compared to the ones from China. According to Rwanda Agricultural Board, The Government of Rwanda paid Rfw42 Million for each Machine between 2019 and 2022.
The Government of Rwanda brought these machines as a part of its mission to transfer innovative technologies to the private sector, and they were given to 10 private farmers who are mostly based in some country parts in which maize and cereals are the main crops cultivated, so that lot of small farmers can benefit from them.
These dryers are suitable for efficiently drying all cereals, grains, beans, and seeds of all crops such as corn, wheat, rice, soybean, sorghum, rapeseed, cashew, and barley among others.
Jean Claude Uwizeyemungu, the director and founder of factory MAHWI Grain Millers, said that before the drying machines arrived, about 90% of maize from the farmers around would be contaminated with aflatoxin, and rejected.
He said the dryers have the capacity to dry 74 tonnes of maize a day, during the harvesting season, and 40 tonnes at other times.
"We offer several services where a farmer can only dry his maize and sell it elsewhere, or dry and even sell it to us," he said.
Drying price too high for farmers
Fabrice Gatera, the representative of Isoko General Trading CO Ltd, said that the mobile drying machines were timely, adding that because the moisture content is currently high due to heavy rains, more drying machines are needed to ensure the product is dried in the shortest period possible.
However, the farmers are still lamenting the high cost of drying caused by the high moisture content due to heavy rains in some areas. The drying fee charged to farmers ranges between Rwf 25 and Rwf 28 per kilogramme depending on the rate of moisture.
"We used to charge farmers between Rwf17 and Rwf18 per kilogram but we have increased it to Rwf32 per kilogram," he said. He added, "The moisture content is very high. As service providers we are incurring some losses.  If we get 10 tonnes to dry, we lose one ton which is a big loss".
Countering the persistent challenges
Joseph Mpambara, a representative of Vision Storage Facilities, praised the positive effect the machines to the quality of cereals is now appreciated by the World Food Program.
"With the machines, during the seasons we are able to assist individual farmers and hose in cooperatives by drying a lot of their products and within a short time," he said.
Although farmers continue to grapple with the problem of aflatoxin contamination worldwide, there is a grimmer of hope as Rwanda turns to electronic dryers for proper drying and postharvest handling through a public-private partnership. This eases access to drying services for farmers and creates a ready market and income for both the farmer and the private investors.
To counter this problem, RAB is planning to import and lease more drying machines to ease this access to more farmers. RAB was also requested to come up with a business model that works with cooperatives to minimize losses.
Patrick Karangwa, the Director General of RAB, said that in partnership with donor-funded projects, they are assessing the current situation of post-harvest activities to be able to address the challenges.
"It is possible that some investors may have many farmers in need of drying services that exceed their drying capacity, while others may have less in need of such services. Therefore, we should ensure that they collaborate," he said.
So far RAB has invested about Rwf11 billion in drying facilities across the country to fight against aflatoxin.
On top of the 10 dryers leased by the government, there are 45 more machines owned by private investors.
In addition to the dryers, RAB says there are about 1,453 drying infrastructures and 518 storages with a total capacity of 44,165 tonnes and 296,770 tonnes respectively across the country.