COVID-19: E-learning program challenged parents of students staying at home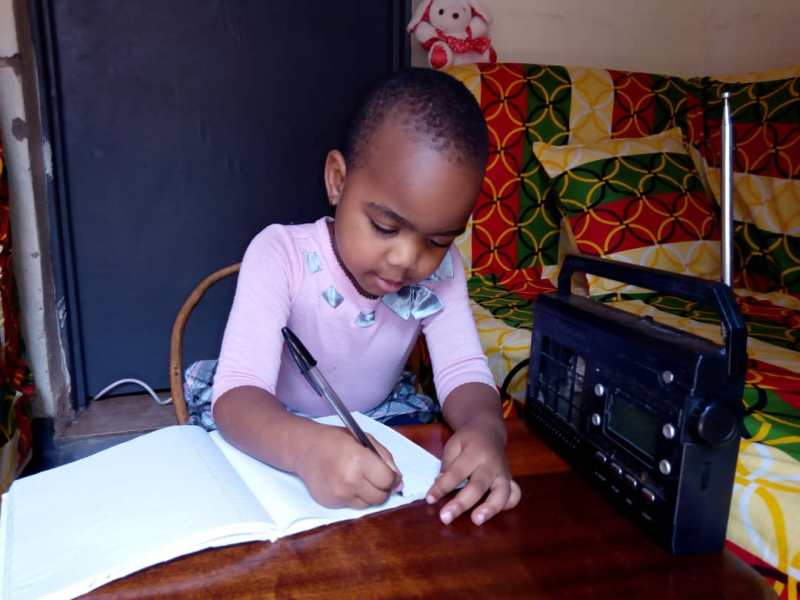 Some parents of student staying at home because schools were closed after COVID-19 outbreak, in order to stop its spreading, are challenged by the e-learning program despite not being tired of their children, and are imploring the government to do something so that the schools can reopen.
"Children are ours, we can't be tired of them, but this e-learning program set for them is so much challenging." Said Grace Ingabire, a mother from Kicukiro district, Kigali city. "It's difficult for a child to study from a radio or a TV when they don't expect any evaluation; they get bored and loose the concentration." Added Ingabire.
Ingabire says that staying at home for so long has discouraged children in many ways; they no longer feel the mood of studying, parents have to always push them to study, but when no one is around children will not even bother following that program either on TV or on radio. She even pointed finger on so many disturbing things at home, when a child is following a TV program and then the door opens, or some visitors come in, and so many other distractions that make a child to lose focus.
More challenging for working parents
Josiane Tuyishimire is a parent in Rusizi district Western province, working daily as businesswoman; she affirms that children get more bored when they are staying the whole day at home; she says "we normally are used to go every day to work and our children going to schools, seeing them staying home all days, they get bored and fight each other, or start to practice what they see in films."
"It's not easy, but then we don't have a choice since this pandemic is involved and we can't control it, we have to live with it; all I can request for our government is to find a way in which even our children can live with the pandemic but in their schools, because for them to stay this longer at home is so challenging for parents." Said Tuyishimire.
Teachers find it challenging too
Even teachers find the e-learning program for children staying at home more challenging. Emmanuel Harerimana is a parent and a teacher from Rusizi district, western province, he says that it's challenging for children when their parents are out to work because no one is going to watch over these children, to remind them to follow the program; and the consequence will be that some lessons will pass without the children getting them, day after day.
"I can't be happy that we continue to study from home, no matter what, when a child is with a teacher face to face can focus on studies more than just listening it to the radio or watching it on TV." Said Harerimana.
What do experts think about the issue?
Professor Pacifique Malonga is an expert in education; he affirms that the program is psychologically, environmentally, methodologically and pedagogically inefficient. "If children can't socialize, if they can't discuss content of their lessons and results of their exams, if the environmental learning is radio school, I guarantee you there is no education." Said Professor Malonga.
"The main mistake is that they didn't consult parents and teachers before putting the program in action, some of them are more experienced in education, they should have helped in designing more adequate solution." added Professor Malonga; he advises for the government to train deeply teachers about the new online and radio school, and the parents about monitoring of radio school.
Institutions in charge of education see it differently
On the other side, the institutions in charge of education in Rwanda say that it should not be a challenge to parents. According to the Director General of Rwanda Education Board, Dr. Irenee Ndayambaje, parents should not be tired of their own children staying at home with them, he even finds it more advantageous because now it's the gold opportunity of parents to have time with their children and focus more on their education.
The e-learning program for students staying at home after the closing of schools, in order to stop the spread of COVID-19, was initiated by the Ministry of education of Rwanda in effort to keep student in line with studies; it's not yet confirmed either schools could be able to reopen sometime soon or later.