Bugesera: ECDs provide better care to children for working mothers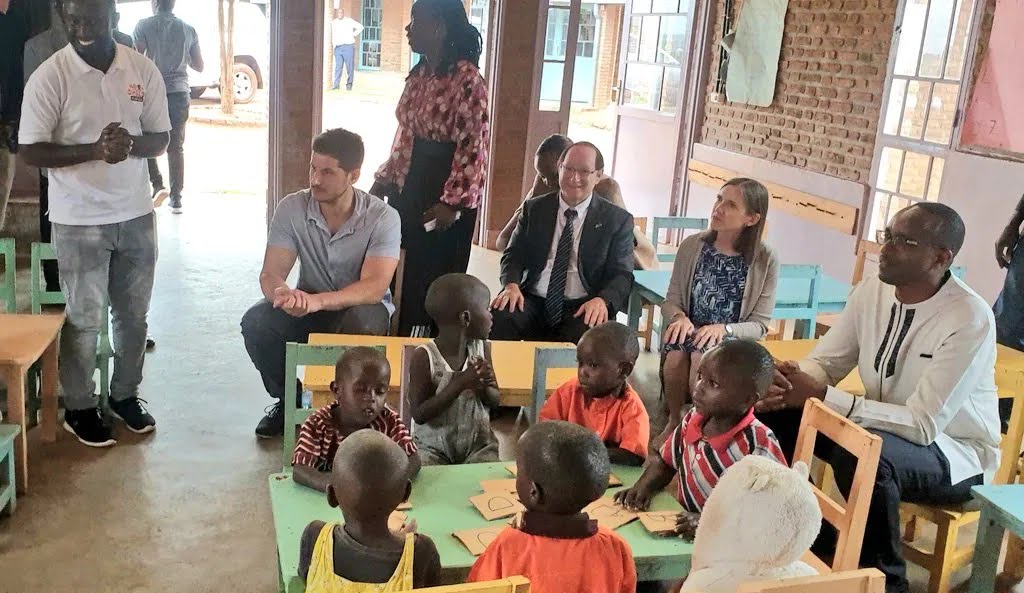 Some of the parents whose children are taken care of at an Early Childhood Development Centre (EDC) in Nyamata Sector of Bugesera District are happy that their children are no longer roaming, as they are attended to while they are engaged in their daily activities.
The centre was built by Help a Child Rwanda in partnership with UNICEF – an agency of the United Nations dedicated to the improvement and promotion of the condition of children.
It has five rooms that accommodate 200 children, but now there are estimated at 330.
Help a Child Rwanda is a Christian, international non-profit organization, whose work focuses on providing a future for children in need, their families and their entire community.
This organization set up a centre for the children of mothers from Nyamata Sector to help them to get a balanced nutritious diet, catering for their education and ensuring their safety when their parents are engaged in their daily activities.
Before the establishment of this centre, children were left in villages, without people to look after them, a situation that threatened their lives.
Now, the situation has changed for the better as the children have a centre that ensures their conducive environment and is attended to by qualified caregivers.
Jeanne Marie Mukarurangwa, one of the parents whose children are taken care of at the Nyamata ECD, testifies that the centre made farmers work at ease, as they are no longer worried about their children's security as it was the case when they used to leave them at home, alone.
"Our children are in safe hands at this centre which is close to us," she said, indicating that they bring children to the centre when they turn three years old.
Mukarurangwa expressed satisfaction that their children acquire knowledge, politeness, and their various talents are detected at the centre.
She said she finds it necessary that it should get expanded so as to accommodate the ever-increasing number of children who need such services it offers.
"We request that they build more rooms for us so that all children be cared for during mornings and afternoons. This can enable parents to have enough time to work for the welfare of their families, without being worried about the safety of their children who currently have to go return home at 11 am, to leave space to others as in shifts," she said.
The time concern was also reiterated by Théodette Akimanizanye, whose children are also beneficiaries of the same centre.
She pointed out that it is a challenge for parents to be at the centre around afternoon hours because, by that time, many go to distant places from their homes to look for livelihoods.
Despite that concern, she indicated that their children are receiving good care.
"Now, our children are provided porridge and milk every day," she said.
Bugesera District Mayor, Richard Mutabazi, thanked many parents who understood the importance of taking their children to this early childhood development centre.
He disclosed that the district is going to mobilize resources to increase the number of required rooms s that all the children in need receive support.
"Going forward, we are going to look for means and partners so that we increase the number of the rooms at this centre,' he said, adding that it is [also] necessary to construct other centres at different places with a view to adequately serve the children.
Jean Claude Nshimiyimana, the representative of Help a Child Rwanda, said that it is gratifying to be a Government partner in building a better future for children.
He confirmed that Help a Child Rwanda will continue constructing other ECDs and training teachers so that they effectively care for children.
So far, there are 26 ECDs located in 15 sectors making up Bugesera District.
Zigama Théoneste