Rwanda records $250 million Chinese investments over the last five years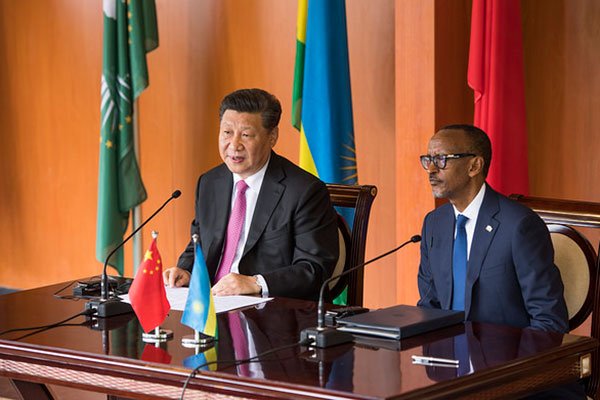 Rwanda records $250 million Chinese investments over the last five years. More than 50 Chinese enterprises have been registered in Rwanda with an investment value of $250million, Claire Akamanzi, The CEO of Rwanda Development Board has revealed. She was speaking while opening China – Rwanda business forum in Kigali together with a 57-person business delegation from Zhejiang.
The China–Rwanda Business Forum is an opportunity to showcase business opportunities in Rwanda and Zhejiang, existing partnerships, as well as act as a platform for networking and business engagement between the respective private sectors. She said that there have been an increasing number of Chinese businesses turning their eyes to Rwanda. "They operate in light manufacturing, agro-processing, construction and mining.
Like Zhejiang, in Rwanda we understand the need for a private-sector led economy, especially given Zhejiang's success in Economic Development Zones, each with pillar industries around which clusters are built," she said. She said that there are several avenues for investment in various sectors – from opportunities in ICT (software development, device manufacturing); Manufacturing (construction materials, light manufacturing, textiles, pharmaceuticals); to Energy, Infrastructure, Tourism, and Agriculture, to name but a few "I am confident that in Rwanda you will find the opportunities attractive, and Rwanda to offer the right business climate including investment incentives that are difficult to find anywhere else," Akamanzi said while addressing the delegation.
In fact Rwanda and the province of Zhejiang already enjoy a good. "Zhejiang has supported several initiatives in the TVET and digital economy sectors. The Chinese Polytechnic in Zhejiang Province supported the expansion of Musanze Polytechnic (IPRC) and provided equipment to enhance practical teaching at the college," she noted. The Jinhua Polytechnic has also been providing scholarships to Rwandan students since 2014 to train in; Vehicle Inspection and Maintenance Technology, Communication Network and Equipment, as well as Hospitality Management. "So far, 42 Rwandans have graduated from Jinhua Polytechnic, and 53 are currently enrolled." "And following the launch of the e-WTP (electronic-World Trade Portal) program in Rwanda, Zhejiang Province pledged to fund tuition fees for 20 young Rwandan students to study a 4-year Undergraduate degree in E-Commerce at the Alibaba Business School in China," she added.
This program is scheduled to start in September 2019. 20 students have been selected for the program and are currently in the process of applying for visas. A lot more of collaboration is underway. The Government of Rwanda has been at the forefront of bold reforms both in the public and private sectors with a view to ease doing business and attract more investors and the RDB CEO said that It is for this reason that Rwanda is ranked by the World Bank as 2nd in Africa and 29th in the world in the Ease of Doing Business "It is perhaps also testament to the reforms and bold decisions that we have seen several reputable companies/organisations invest in Rwanda; such as Volkswagen, Andela, CMU and start-ups develop into regional players. More interestingly, however, is that Rwanda is now well positioned as a Proof-of-Concept country – where companies such as Zipline establish to test their concepts and develop them into viable business projects that can be scaled up to the rest of the world," she said.
Niyonagize Fulgence