New partnership between Hinga Weze and Equity Bank to Offer Loans worth RWF 2,520,000,000 to farmers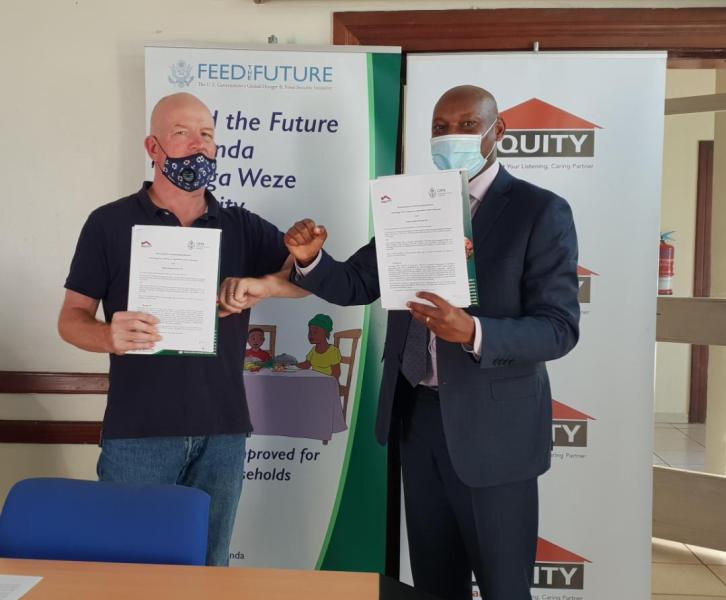 Hinga Weze has negotiated a partnership with Equity Bank Rwanda Plc for smallholder farmers to access a number of financial services including loans of RWF 2,520,000,000, part of which will also facilitate farmer cooperatives, aggregators and agro-dealers. The farmers to benefit from the joint facility are involved in Irish potato, horticulture, maize and poultry value chains.
According to the memorandum of understanding signed June 30, 2020, Equity Bank pledged to facilitate 5,000 farmers to access credit with a value of loan worth RWF 500,000,000, while 25 farmer cooperatives will access RWF 300,000,000 in loan value. Also, 5 aggregators are expected to receive credit worth RWF 1,500,000,000 and 110 agro-dealers will access credit worth 220,000,000 in value of loan.
Through the same partnership, 10,000 farmers and 50 cooperatives will be trained in post-harvest handling, storage techniques, good governance and financial literacy. Two buyers will adopt an Off-take Guaranteed WRS Model while one product will be developed or reviewed.
Funded by USAID, Hinga Weze has so far entered into partnership with 25 financial institutions including KCB, MFIs and SACCOs, and has facilitated access to RWF 3,587,580,000 (USD 3,802,429) of value of agriculture loan out of 5,650,000 USD$ as value of agriculture-related financing expected to be accessed in five years. About 41,552 farmers have also participated in microfinance and lending programs, out of 63,746 farmers targeted by the program in five years.
About Equity Bank
Equity Bank Rwanda Limited is a 100% subsidiary of the Equity Group Holdings Limited with a customer base estimated at over 9.2 million in the five East African countries that it serves, making it one of the largest commercial bank on the African continent, by customer numbers. Equity Bank Limited – Rwanda is licensed by the National Bank of Rwanda, the country's banking regulator.
 About Hinga Weze
Hinga Weze is a five-year USAID-funded project (2017-2022) that aims to sustainably increase smallholder farmers' income, improve the nutritional status of women and children, and increase the resilience of Rwanda's agricultural and food systems to a changing climate. By 2022, the project will have benefited over 700,000 smallholder farmers in ten target districts: Bugesera, Gatsibo, Kayonza, and Ngoma (Eastern Province); Karongi, Ngororero, Nyabihu, Nyamasheke, and Rutsiro (Western Province); and Nyamagabe (Southern Province) and across five value chains: high-iron beans, orange flesh sweet potato (OFSP), Irish potato, maize, and horticulture.